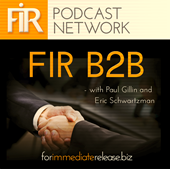 In this episode of For Immediate Release B2B, Paul Gillin and Eric Schwartzman interview SAP Head of Social Business Sarah Goodall and discuss the risks of relying on social networks to deliver news in a democracy, Sprinklr's Get Satisfaction acquisition, Meerkat and Periscope.
Fair use is an essential tool for journalists, enabling them to draw upon copyrighted material in the name of the public's right to know. But who decides what constitutes fair use in a medium that spans the globe?
It turns out that many platform providers are designating themselves as judge, jury and executioner. If you've ever had a video removed from YouTube because it included a clip from a popular song, you'll be interested in how the story plays out.
Facebook's plan to host content from major media outlets may bring the issue of content ownership to the fore.
Sprinklr is acquiring Get Satisfaction, demonstrating how important customer reviews have become to both social media listening and promotion. Get Satisfaction has signed up a blue-chip base of customers that use its embedded review service not only to gather feedback but to drive sales from peer recommendations. Interestingly, companies that host reviews on their own commerce sites tend to generate better feedback than those that don't.
Have you tried Meerkat or Periscope yet? Many marketers are beginning to tinker with the new tools of live streaming, and we expect to soon see an explosion of innovative content as a result. Here's a tutorial to get you started.
Special Guest: Sarah Goodall, Head of Social Business, EMEA, SAP
Employee brand advocacy programs are difficult enough to implement when your people all speak the same language and live in the same country, but what do you do when you program spans dozens of borders, languages and cultures? That's the task that special guest Sarah Goodall of SAP tackles in her role as Head of Social Business for Europe, the Middle East and Africa. Sarah's experience will be of interest to any communications professional who works with a multicultural audience. You'll be particularly interested to hear her observations on the characteristics of specific cultures, from the outgoing social networkers in Italy to the intensely private Scandinavians.
Get this Podcast:
About Your Hosts
Paul Gillin is a veteran technology journalist and a thought leader in new media. Since 2005, he has advised marketers and business executives on strategies to optimize their use of social media and online channels to reach buyers cost-effectively. He is the author or co-author of five books, including Social Marketing to the Business Customer (2011), the first book devoted entirely to B2B social media marketing. He is also a social media trainer and coach at Profitecture, a training firm for B2B companies and their channel partners.
Send Paul an email or connect with him on Twitter: @pgillin
Eric Schwartzman is a digital strategist with 15 years of experience selling and leading teams on the agency side in the development and delivery of innovative integrated marketing initiatives for multinational corporations, NGOs, federal government agencies and military commands. He is a frequent speaker at conferences all over the world on the topic of how technology is changing the way organizations communicate and the way people use media and information.
Follow Eric on Twitter at @ericschwartzman.
Eric's expertise is in digital strategy, digital governance, content marketing, database marketing, user experience design, employee advocacy, education technology, digital multimedia production, B2B lead generation, search engine optimization and social media engagement techniques. He's also the best-selling co-author of Social Marketing to the Business Customer.
Share your comments or questions about this podcast, or suggestions for future podcasts, in the online FIR Podcast Community on Google+.
You can also send us instant voicemail via SpeakPipe, right from the FIR website. Or, call the Comment Line at +1 415 895 2971 (North America), +44 20 3239 9082 (Europe), or Skype: fircomments. You can tweet us:@FIRpodcast. And you can email us at [email protected]. If you wish, you can email your comments, questions and suggestions as MP3 file attachments (max. 3 minutes / 5Mb attachment, please!). We'll be happy to see how we can include your audio contribution in a show.
To receive all podcasts in the FIR Podcast Network, subscribe to the"everything" RSS feed. To stay informed about occasional FIR events (eg, FIR Live), sign up for FIR Update email news.