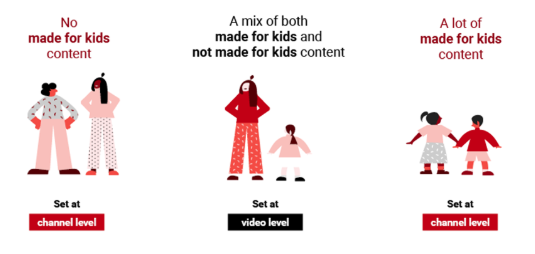 To enforce the Children's Online Privacy Protection Act (COPPA) Rule, Youtube has introduced a new "Made for Kids" audience setting in Youtube Studio to ensure content creators identify content for children so they have a way to limit the amount of personal information they collect from those accounts.
Starting January 2020, Made for Kids content will no longer include commenting, personalized ads, info cards or end screen capabilities. Made for Kids channels won't have Stories, a Community Tab, Notification Bell, Save to Watch Later or Save to playlist functionality.
The new "Made for Kids" audience settings are available at either the channel level or the video level. Youtube will now prompt you to define your audience when you upload new videos as well. And in the US, kids are are defined as 13 and under.
The video sharing platform sent an email to all account holders introducing the new feature yesterday, which a requirement under the settlement. Our free online FTC Disclosure Guidelines Course covers COPPA compliance and is available here.
In addition to the new setting, Youtube says they'll be using machine learning to identify content that's clearly made for children. We'll have to wait and see how that works out. If they detect abuse, they'll change your audience settings for you. There is an appeal process, if you think your content was categorized.
The changes come ten weeks after Google agreed to pay a record $170 million to settle allegations by the Federal Trade Commission and the New York Attorney General that YouTube illegally collected personal information from children without their parents' consent.
COPPA is the Children's Online Privacy Protection Act and was introduced by the FTC to regulates how companies interact with children online. The riles impacts privacy policies for information for children and getting parents' permission under certain circumstances.
When a company interacts with children under 13 online it is required to:
Post a clear and comprehensive online privacy policy describing their information practices for personal information collected online from persons under age 13;
Inform parents about what personal information is collected and shared from persons under 13, and to update them if that changes
Obtain parental permission, with limited exceptions, prior to any collection, use, or disclosure of personal information from persons under age 13;
Provide a reasonable means for a parent to review the personal information collected from their child and to restrict its further use or maintenance;
Establish and maintain reasonable procedures to protect the confidentiality, security, and integrity of personal information collected from children under age 13, and…
Only retain a child's personal information for as long as it is necessary to fulfill the purpose for which it was collected. After that, it must be deleted.
Also, it's illegal to make the disclosure of personal information from children a condition of participation.
COPPA applies not just to child-directed websites or services, but any site that integrates outside services, such as apps, browser plug-ins or add-ons, voice over IP services like Skype, location based social networks and programmatic advertising networks , or any site that collects personal information from its visitors.
In summer 2013, the FTC expanded the definition of children's personal information to include persistent identifiers such as cookies that track a child's activity online, as well as geolocation information, photos, videos and audio recordings.
Facebook steers clear of committing COPPA violations by restricting use to people 14 and older. Linkedin was for members 18 years of age and older, but they lowered their age limit to 14 in a bid to connect students and universities.