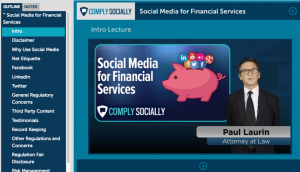 Comply Socially, the nation's top-rated social media training provider, today released a new social media training course for financial services providers online. The online course shows how to use social networks to see money in motion events like the birth of a child or the death of a parent, without violating FINRA guidance and SEC regulations.
"Financial services providers are very conscious of the known risks of social media marketing," said Comply Socially CEO Eric Schwartzman. "They want to use LinkedIn, Twitter and Facebook to build stronger client relationships and originate new accounts, but not at the expense of a negative disclosure on the Form U5."
Created to help anyone associated with a broker-dealer or investment advisory learn to tweet effectively and responsibly, the new self-paced Social Media for Financial Services Training Course covers social media marketing strategy, social media management, social networking for measurable business gain on Facebook, Twitter, LinkedIn and more.
On the social media compliance side, the new Social Media for Financial Services online course covers rules and regulations on advertising, testimonials and electronic communications monitoring.
About Social Media for Financial Services Online Training The new Social Media for Financial Services training course includes modules on the impact of SEC Regulation Fair Disclosure (Reg FD) on social media use and other emerging means of communication and the requirement of brokers and firms to retain records of electronic communication, as well as how those record might impact reasonable use.
Social Media for Financial Services is comprised 14 videos with case studies on investment brokers, global financial services firms and credit unions. The running time of Social Media for Financial Services — available via desktop or mobile browser in HD — is roughly 35 minutes.
To verify knowledge transfer, SCORM compliant assessments follow each training module. For convenience, the online course offers session tracking to accommodate incremental learning.
The new online social media training course for financial services providers focuses primarily on FINRA 10-06, FINRA 11-39 and the SEC Risk Alert: Investment Adviser Use of Social Media. Appearing as the on-screen instructor of Social Media for Financial Services Providers in the live action videos is Paul Laurin, attorney-at-law.
Social Media for Financial Services Providers is an online training course that provides insight into the benefits and risks of communicating in public. It cannot and does not anticipate or discuss every situation that might arise. The course is for informational purposes only and is NOT legal advice. Different states, cities, and companies have different laws and rules that apply.  If you have questions, consult someone familiar with the legal and practical issues for your situation.
About Social Media Training Provider Comply Socially
Social media training provider Comply Socially helps organizations manage the risk and capitalize on the opportunity of social media at work through expert-led, blended self-paced and live social media literacy and compliance training, assessment and certification programs.  Comply Socially was founded by best selling social media marketing book author Eric Schwartzman, who has delivered social media training to Aboitiz, Boeing, City National Bank, Edison International, Johnson & Johnson, Singapore Ministry of Health, Toyota, UCLA, the US Dept. of Defense, US Dept. of State and dozens of other agencies, multinationals, NGOs, and small and medium sized enterprises.