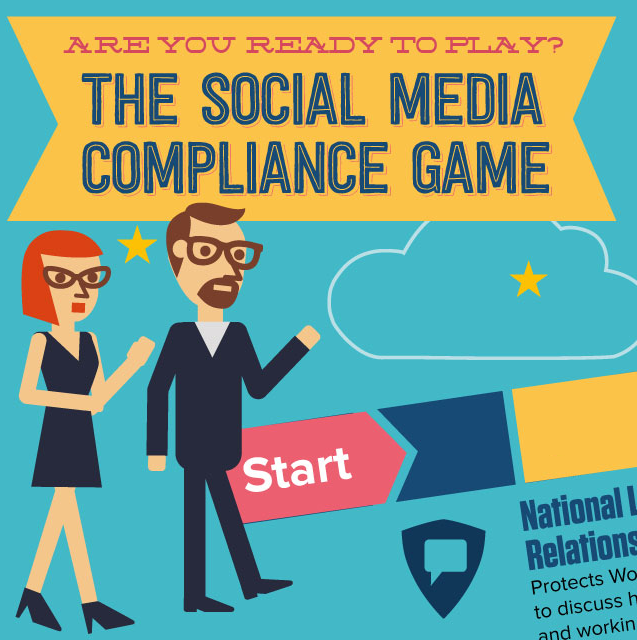 FREE Social Media Policy Compliance Poster
Learn about the 9 most frequently violated US Rules and Regulations. Social media policies don't prevent misuse.
Prevent a social media crisis by improving awareness!
Display this poster at work to improve awareness of how the National Labor Relations Act, Fair Credit Reporting Act, Computer Fraud & Abuse Act, Electronic Communications Privacy Act, HIPAA, Communications Decency Act, Digital Millennium Copyright Act, FINRA Guidance and the FTC Dotcom Disclosure Guidelines govern social media use.
Combine with free social media training courses and implement a social media compliance certification program at your organization. Raise awareness of safe and responsible social media use at work.
70% of employers have disciplined employees for social media misuse.
Make it easy for everyone to appreciate and understand:
What NOT to use social media for at work
How to monitor social media lawfully

Minimize copyright infringement risks

About their "duty to disclose"
And much, much more
INCREASE SOCIAL MEDIA COMPLIANCE AWARENESS
Email Address
First
Last
Title
Organization
Bring your coworkers up to speed with this accessible, easy to grasp social media policy compliance awareness resource, created by Eric Schwartzman.
Most people think social media compliance is just for regulated industries. And it's true that regulated industries do have more rules to comply with.
But social media compliance is everybody's business.
Whether you're business is regulated or not, there are dozens of federal and state regulations and local ordinances that dictate how you can and can't use social media lawfully for business.
Up to now, that strategy for winning social media policy compliance at most companies has been to issue a social media policy.
But no one reads your social media policy. They sign for it, and put in the bottom drawer.
Despite the fact that 80% of employers have social media policies, 70% have disciplined employees for social media misuse, research shows.
We'll also walk through the major US rules and regs that impact how organizations can and can't use social media lawfully in the workplace.