Use this free online resource by Eric Schwartzman to accelerate your social media policy development timeline.
Over the last two years, nearly half of all employers have disciplined workers for social media misuse. 80% of employers have a social media policy, and 70% have taken disciplinary action against employees for social media misuse.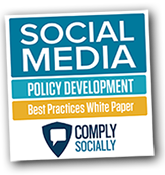 Why is the rate of misuse so high? What are they doing wrong?
Find out in this recently updated whitepaper by digital and social media compliance specialist Eric Schwartzman.
You'll learn how social media policies are changing and receive the latest, exclusive case studies on how employers are handling digital and social media governance.
Social Media Policy Development Whitepaper
Once employees have the skill and the authority to determine which conversations to participate in via social media, employers should encourage them to steer all their public communications through channels such as Facebook, Twitter and Linkedin, where they have greater potential value because of their broad visibility. Direct communication channels, like meetings, email and phone should only be used for proprietary, sensitive communications.
Includes case studies on social media policy development initiatives by the US Air Force and the Olympics. Get additional social media policy development resources and more.