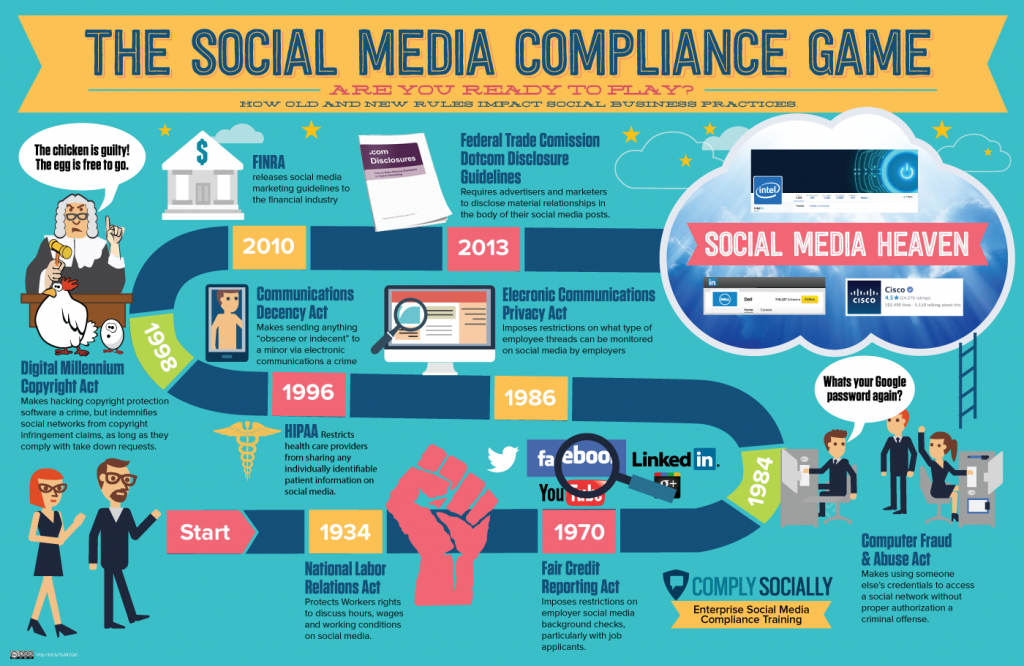 Social media usage at work has become mainstream. Most employees use social media at work everyday.  Not just PR and marketing staff, but everyone.
Most employees use social media several times over the course of their work day.
If they say or share something they shouldn't — and it's only a matter of time until someone at your company says or shares something they shouldn't on social media – your organization's reputation can be severely damaged.
If you're reading this blog, you already know that social media meltdowns have become their own newsbeat.  Everyweek, another company is tarred and feathered for some sort of social media misuse that could have been avoided.
If you're in corporate communications, marketing or PR, you've already learned that at many organizations, social media misuse results in the reduction of digital marketing budgets and head count, so even if your department is knowledgeable on what is and isn't okay to do on social media, it's in your best interest to make sure others inside your company don't make foolish mistakes that impact your livelihood.

Because if some does or says something that get your company in trouble online, your social media marketing activities are going to scrutinized and possibly even eliminated.
That's why we created the Social Media Compliance Game.
To help you make sure your people are trained in social media compliance. Don't be fooled.  Social media compliance isn'tt just for regulated industries.  Whether you're regulated or not, if you're not certifying your workforce in social media compliance, social media is a communications crisis waiting to happen.
In 2008, Brian Solis and Jesse Thomas galvanized the spectrum of engagement opportunities on the social web with their Conversation Prism.
Back then, most of us were focused on how social media could be used for marketing and PR.  Today, social media gets used for sales, HR, R&D, procurement, customer service and more.
But since most employees aren't trained in public disclosure and reputation management, social business has given rise to a nascent spectrum of risks.
The Social Media Compliance Game galvanizes the risks that social business practices pose to US employers.
It's a game organizations that scale social media engagement by empowering employees to serve as goodwill ambassadors should learn to play.
Before you start, you'll need a social media policy.  It won't protect you or your employees from social media misuse, but it should help justify disciplinary action, assuming it's current and lawful.
Satisfying the policy prerequisite doesn't excuse anyone from playing, because no one actually reads your social media policy.  They sign for it, and stick it in the bottom drawer.
So they'll still need to learn how to play.
While 80% of employers have social media policies,  70% have disciplined employees for social media misuse, according to research.
Social media policies don't change employee behavior.  They'll need social media compliance training for that.
For Regulated and Unregulated Players
The Social Media Compliance Game is not just for employees in regulated industries.  They do have more rules to comply with, like HIPAA and FINRA.
But this Social Media Compliance Game is designed for employees of any organization that earns more than $250k per year.
We created it to help you understand that whether you're regulated or not, social media use that's noncomplaint represents a potentially costly, unpredictable and unmanaged risk.
Can we teach your employees how to play?

Caution: Social media misuse may result in the reduction of digital marketing budgets and staff.
Note: If you have no social media policy, advance directly to the social media policy whitepaper. Do not pass go.  Do not collect $200.