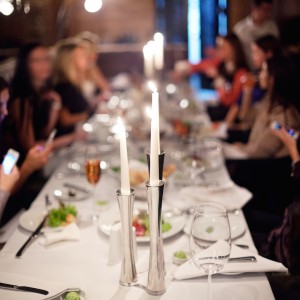 Hungry? Good. It's time to eat.
But we won't be serving 90-day strategies, or corporate culture.  We're eating governance.
Don't glaze over.  It's much tastier than you think.
You see, while you were at the off-site strategic communications planning session, governance grew up.
That's right.  In the age of the shared digital customer journey, governance trumps culture, according to a new qualitative report by Altimeter on the opinions of "strategists and executives who are responsible for or influence their organization's social business governance."
Seeking to "address the disconnect between strategy and governance" the report says both are equally important and key to social business success.
But before you get bent out of shape by the idea that governance is as important as strategy, you should know that authors take a broader view of what has traditionally been considered "governance" up to now.
It's not just compliance.
It's a way to scale social newsfeeds, improve online customer service, enable employee advocacy and manage risk, and you do it by aligning "People, Policies, Processes and Practices."
You can't optimize your customer's experience with social media unless everyone who plays a role in the journey is engaged. Customers that tweet a product issue aren't trying find your phone number, so replying with your phone number isn't helpful. They want to resolve their issue on Twitter.  If you can't do that, you #fail.
"What started in marketing has spread to customer service, product management and HR." Encouraging wider spread use of social media requires executive sponsorship. That's the "People" part of the equation.
In terms of the social media "Policy" piece, the report offers some good suggestion like checking out Chris Boudreaux's site for comparable examples, building a cross-functional stakeholder coalition and considering the use of social media training  and certification as a way of measuring success, what I found the most interesting are the types of social media policies and guidelines in place at the organizations queried.
75% have employee social media policies in place (we have a course on this)
66% have rules for launching a new corporate social profile
60% include some guidance on social media usage best practices
55% address internal social media usage
47% have a social media privacy policy (we have a course on that too)
46% offer external community management guidance
37% cover employee advocacy
For processes, the authors found that when it comes to social media, the marketing department leads the customer service department, only 37% have any sort of risk mitigation processes in place and a paltry 27% can uncover product insights from social media, despite the fact that nearly two-thirds have social media monitoring platforms (we a course on that too) in place.
And finally, you need "Practices" which is everything from the technology platforms, rule books and employee training programs you use to execute. In addition to leveraging tools like Sprinklr, Hootsuite, Radian6, Netvibes and Nexgate, you need to develop social business skills.
"Social strategists recognize that lack of employee understanding is one of the most important obstacles to achieving their vision." Social media literacy and compliance training is required to teach employees without an external communications background to use social networks to communicate effectively and responsibly on the public record.
The report — which also includes a useful Social Business Governance Maturity Map and other resources — is a generous contribution to the enablement of enterprise social media adoption.
But I'm not convinced that the "Hub & Spoke" organizational model is necessarily the way to get there. As the use of social media for non-marketing related procedures becomes more common, the day when social networking (like email) becomes a decentralized business process has already arrived at some organization (of which Altimeter is one).